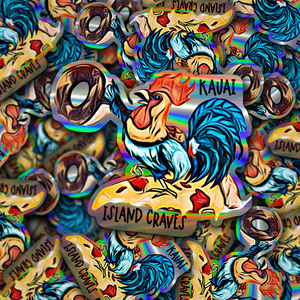 Wholesale packs of 50 or more custom rainbow holographic stickers. 
BUY MORE AND SAVE:
2 Packs + use code "BUY2" ($16ea)
6 Packs + use code "BUY6" ($15ea)
12 Packs+ use code "BUY12" ($14ea)
Artwork on each sticker must be identical. This can be anything (company logo, phrase, photo, etc) but MUST be the same for the entire pack of 50. Please send artwork or special requests via email to Mallory@HappyCampersTX.com
Personalization of each decal is NOT included. Please contact us to discuss personalization options for wholesale orders. You may use the personalization box in the listing for any notes you would like for me to know about the order.
Pricing based on 2.5" x 2.5" size. Please provide artwork and desired size for a custom quote.
This gorgeous yet durable material will give your stickers an eye-catching psychedelic look that will turn heads. With this material, you can have an entirely holographic sticker or choose for only certain details on your sticker to be holographic. Whatever you choose, you'll be mesmerized by that rainbow oil-slick look